Webinar Recap: FASTR Design Lab

In yesterday's FASTR Design Lab, we were getting rid of the summer rust and gearing up for what the fall season promises ecommerce teams every year: a whole lot of holiday campaign preparation.
Director of Design Services, Alex Spiret, walked through a variety of examples showcasing key design elements and creative inspiration for teams as they prepare for the design tasks involved in their own fall and winter campaigns.
Common themes (take note!):
1. The holidays are a great time to experiment with new types of graphics, imagery, animations, and content: Just as brick-and-mortar stores may be decorated differently during the holidays, ecommerce brands also have some creative flexibility. You may not be putting snowflake decals on your store windows or stringing silver tinsel from your light fixtures, but you can (and should!) practice the same sort of creative freedom. Try something different, mix it up, and experiment.
2. Dynamic > static: Of course you don't want the distracting chaos of having every element of every page on your site bouncing and moving, but do not underestimate the power of subtle animations. Demand shoppers' attention! You'll see some beautiful examples of this below.
3. Flexible layout capability: You don't have to – nor should you – focus solely on designing for either desktop users or mobile users. If you're armed with FASTR Frontend you have the capability to easily adjust (instead of having to completely recreate) your layouts for various devices and screen sizes.
Here are a few of the holiday examples shown and discussed in yesterday's FASTR Design Lab:
Philosophy
Subtle animations serve as holiday decor and simple quizzes (or polls) provide a guided shopping experience.
Spoiler alert: Alex gives some more guidance on impactful quiz-making in the workshop!
Riviera Maison
A perfect example of ultra-subtle animation used for hot spots that draw attention to specific
products without distracting from the rest of the page's elegant imagery and feel.
Satya Jewelry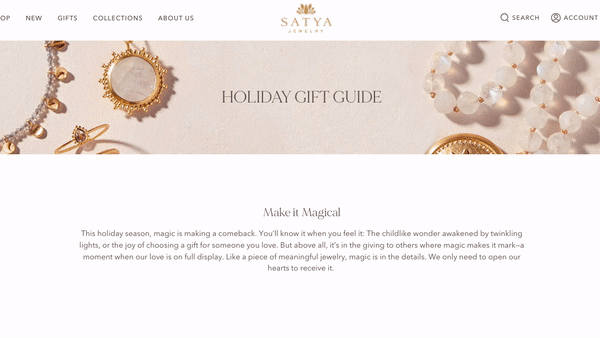 Subtle animation can be be used to encourage the shopper to continue browsing or guide the customer journey.
This clean, crisp example replaces a static tile with animation that directs visitors to check out "Best Sellers".
Natori
An automatically-played video or looping animation in the hero spot demands attention and in the Design Lab,
Alex discusses how this can be easily set up – and yes, it works on all devices and screen sizes!
In the 30-minute workshop, we dive deeper into design tips and tricks plus share more creative examples from a variety of ecommerce brands and industries.
See for yourself and get inspired! Watch the latest FASTR Design Lab recording.