Shoppable Social Media: Amazon Spark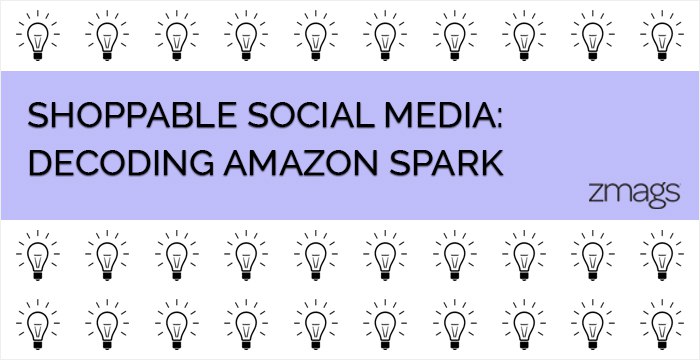 Sharing perspectives on the latest trends and tips to help eCommerce brands stay ahead to engage and drive revenue.
The intersection of commerce, content, and social has been a lofty goal for retail marketers across the brand spectrum. But it looks like the industry is one step closer: meet Amazon Spark.
Amazon launched the mobile app one week ago, and seems to have been inspired by Instagram and Pinterest (social channels that have been inching towards shoppability on their own). The app is currently available only to Amazon Prime users.
Shoppable Social Media
The goal of the app is organic product discovery. Users start by selecting their top five interests, which range from "makeup" and "home décor" to "cats" and "TV bingewatching." From there, Amazon Sparks presents the user with a completely customized discovery feed of images, products, and inspiration. Posts can be review-based, a how-to guide, a video, or just a shoppable image. Cait Porte, SVP of Customer Experience at Zmags explains, "Amazon Spark confirms the theory that presenting consumers with stories and suggestions related to their own purchase path will ultimately result in higher conversion for product purchases. Through leveraging social influencers and interactions, Amazon Spark will enable the consumer to travel down their own path, rather than the one suggested by the marketer." So what makes Amazon Spark work? 1. Navigation Users will intuitively know how to navigate Amazon Spark because they've essentially already navigated Amazon Spark. Whether they're on Snapchat, Instagram, Pinterest, or all three, they've seen and used the same scrollable UX format before. This means there's no learning curve for new users, which ultimately means they can start discovering products faster. 2. Personalization Because the app is connected to users' Amazon Prime account, Spark already knows what you like. The app can analyze your shopping habits and browsing patterns to serve up the perfect content, customized for you. We've talked a lot about the pains of product discovery, and how Amazon has historically struggled to narrow down its product base to a consumable size. With Spark, they are making the customer journey easy and organic through guided selling, and are getting closer to delivering completely personalized rich and curated content. 3. Shoppability The purchase process is what makes Amazon Spark stand out from other apps; anything with a shopping bag icon can be clicked to instantly purchase from Amazon. The process is quick and seamless, allowing users to easily return to their feed. Because users are already logged into their Amazon account, shopping from Spark takes only seconds – a stark contrast to apps like Instagram or Pinterest, who have no control over the purchase process once users leave their feeds. Amazon Prime shoppers have grown accustomed to a one-click buying process on the website, so anything less would be an instant turn-off. Amazon Spark still has a way to go before it becomes online shoppers' go to source for products and content. Reviews are mixed on Twitter, but for now, Amazon is making a bold move. They are not just entering the social media space, they are prioritizing product discovery and personalized guided selling like never before. So for brands who are competing against this retail giant, it's as good a time as ever to reevaluate their own content strategy. If Amazon is pushing for interactive guided selling, brands need to take notice and follow their lead.