Pride Month 2023: Campaign Roundup

During this time of economic uncertainty, the general population feels the financial strain on their purchasing power and businesses see that reflected in their sales. Adding the heavy hand of political pressures to this already-unstable mix and you get business leaders and decision-makers stuck between a rock and a hard place.
Then along comes Pride Month – a time of celebration and support for the LGBTQ+ community – and these business pressures get amplified. And it's not just whether or not a brand launches a Pride Month campaign that can be under the microscope, but also how or with whom it's created and conducted, and if that voice of support is present year-round or is just participation in "rainbow capitalism".
In a recent NPR article outlining how businesses are navigating Pride campaigns in 2023 – their visibility, their volume, and their collaborations – Erik Gordon, a clinical professor at the University of Michigan's Ross School of Business sums it up quite concisely: companies feel centered in a culture war and run the risk of turning off or offending both their left- and right-leaning markets.
But economy and politics aside, it's always intriguing – any time of the year – to see brands' fearless creativity and campaign output and it's clear that this June, despite financial and political pressures, Pride campaigns and consumer support have continued to flourish.
To give a glimpse of the interest in and market for Pride-related products, an article from JungleScout summarized Amazon keyword search statistics and reported that between early May and mid-June, Amazon searches for "Pride Month" have increased by nearly 2,000% and specific products also show massive increases.
And that's just Amazon! So, here's a roundup of a few interesting campaigns from some notable brands: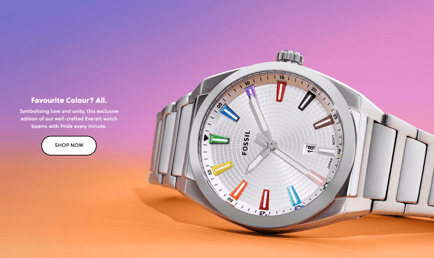 Fossil
This year, Fossil has created a three-piece collection to mark Pride month that includes a stainless steel watch, a band ring, and a chain necklace. All three pieces are beautiful, classic stainless steel pieces that feature colors from the progress Pride flag. Fossil has also continued their partnership with The Trevor Project – a nonprofit organization focused on crisis support services for LGBTQ+ youth – and since 2021, has donated more than $275,000.
Adidas

"Let Love be your Legacy" is Adidas' Pride collection designed by South African, queer designer, Rich Mnisi, and includes lifestyle pieces, sport-specific performance pieces, and some Adidas Originals.
The brand also collaborated with Olympic gold medalist, Tom Daley to highlight his written love letter to sport – a place he says is "a space for everyone".
American Eagle
This apparel mega-brand also took the collaboration route, teaming up with Olivia Ponton, an influencer with a massive following who candidly identifies as a part of the LGBTQ+ community. American Eagle's Pride collection consists of a variety of genderless apparel and accessories and the company has committed to a $100k donation to the It Gets Better Project – a nonprofit organization with a mission to uplift and empower LGBTQ+ youth around the world.
Craft Gin Club

When you rack your brain for Pride campaigns and products, "apparel" is likely one of the first categories to come to mind, so it's exciting to see this UK-based gin subscription company's participation. Craft Gin Club collaborated with Wessex Gin on an exclusive bottle of their London Dry Gin with a citrus twist they've named "Respect Gin". They've also committed to donating £5 for every bottle sold to Across Rainbows – an organization enhancing inclusivity and embracing uniqueness through talks, workshops, and supportive community.
Skittles
For Pride 2023, Skittles – a company famed for their rainbow-inspired candies – commissioned various queer artists to design pride packaging. To help amplify and give the floor to queer voices, each package features a QR code that leads consumers to a page on the Skittles.com site where they can hear directly from the artists about their creative work and their story.
And some more colorful campaigns worth clicking through...
Happy marketing, happy shopping, and most of all, happy Pride Month!