Customer Stories|Shoppable Content
DIY Content: Why Aerosoles' Content Resonates with Target Millennials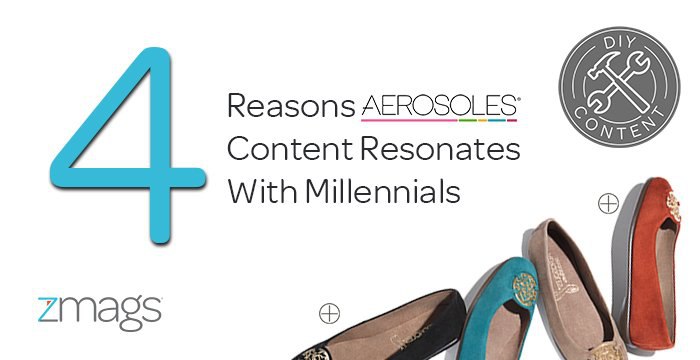 Sharing perspectives on the latest trends and tips to help eCommerce brands stay ahead to engage and drive revenue.
Aerosoles is reaching out and trying to connect with the millennial audience, a group that demands fresh, engaging content. To that end, their latest digital experience – the Aerosoles Fall Collection – is a home run. The beautifully immersive experience features their latest collection of footwear via rich visuals and tons of interactivity with embedded videos, animations, and gifs. The combination of media keeps customers engaged, while the integrated product quick views make the path to purchase simple. When combined, these multimedia features create the perfect reintroduction to an already successful brand for the millennial generation that craves the new + fresh. We've broken down the top 4 reasons why this Aerosoles experience is cooler than your Stranger Things Halloween costume.
1. Integrating Immersive Video Content
Aerosoles' unique use of video in the experience is key. Videos are always a rich, exciting, and polished way to present a product. But what we love here is how the videos are layered into the experience on auto-play so that you are immersed in the chic city vibe they create. Coupled with on-brand graphics and unique angles, their inclusion is completely natural. They weren't just thrown on the page; the experience is organically built around them. Coupled with youthful, upbeat music, and a setting in downtown Manhattan, the videos are beautifully shot and add a sense of excitement to the page. As a viewer, you're a part of the photoshoot, and this connection is priceless.
2. Instant Shop-the-Look GIFs
Aerosoles seamlessly weaves gifs into the experience. By using them sparingly, they are visually impactful and add an interesting element of youthfulness and surprise. More importantly, the videos and gifs offer inspiration for the shopper. She can see the shoe as it moves, paired with various outfits and from all angles in a real-life setting. After all, some women base their entire wardrobe around their shoes. By featuring these fluid images, customers can gain insight into how these shoes can be styled and on-trend, offering value as well as products.
3. Clickable Media With Quickview Capabilities
Of course, why invest in this sort of rich content if it just complicates the path to purchase? Shoppability is an absolute must. Without it, customers are engrossed in the experience, excited about the product, and then sent on a wild goose chase through landing pages to chase that pair of heels down. It's frustrating, especially when you're forced to leave the experience that inspired you to buy in the first place! It's been said before, but the millennial generation expects instant gratification. A difficult path to purchase is a sure way to lose them before they ever make it to the cart. To avoid this, the Aerosoles team made sure everything is shoppable: images, gifs, and even videos. So the moment a customer has that "has to have it" moment, they can click on the product to fire a product quickview, select their size, and immediately add to cart – without ever leaving the experience. This means your customers can continue to peruse the experience and possibly purchase more. The worst thing a retailer can do is pull the customer away right when they're ready to buy, so instant shoppability is a huge driver of conversions and AOV.
4. Completing the Customer Journey With Product Education
The digital experience concludes with a deep-dive into some of their products, and just what makes them so comfortable. It's a nice touch – first see how beautiful our shoes are, now discover just how good they'll feel on. Featuring informational pop-up videos, branded graphics, and shoppability, it's the perfect cherry on top. The entire experience, from start to finish, was built with Zmags Creator, using simple drag and drop technology and no coding. Experiences like these are creative, unique, and stand out against your typical static product pages. Aerosoles' fall experience is immersive and bold, firmly establishing their brand as chic + modern. By leveraging multimedia content and layering beautiful images, video, and gifs, their customers are inspired and ready for more.